Metallica frontman James Hetfield has one of the most ferocious right hands in metal. While redefining what chromatic metal riffing could sound like, he also gave a masterclass in how downpicking will always sound superior to alternate picking.
Papa Het has used a lot of different picks over the years, and currently has two custom James Hetfield pick sets for sale online.
We're going to tell you everything you need to know about James Hetfield's guitar picks – then and now.
---
You may also like
---
What guitar picks does James Hetfield use?
Hetfield currently uses custom Jim Dunlop picks in 1.0mm and 1.14mm gauges. His custom Black Fang pick is based on a vintage tortoise-shell pick (which he used for the first 20 years of the band), while his White Fang is based on a Dunlop Flow pick.
---
Dunlop Hetfield Black Fang
The Black Fang was first introduced in 2009, and is a 1.14mm ultex pick with a beveled edge that has a defined tone and sharp attack.
The pick appears to have been road-tested by Hetfield on the Death Magnetic tour as what is known as the Papa Het Wheel custom pick.
The pick also went through several design prototypes before landing on the final horror inspired green face design.
"It's fast, bright, and strong because of its hard point and material," says the man himself. "It gives you everything you need—just add venom."
It is available for sale in .73mm (Dunlop PH112T.73 – note the PH for Papa Het), .94mm (Dunlop PH112T.94) and 1.14mm (Dunlop PH112T1.14) variations.
Jim Dunlop White Fang
---
In 2018, Hetfield started testing out a new 1mm pick for Dunlop called the White Fang. It is based on a Dunlop Flow pick profile, but taking some of the best aspects of the Black Fang to give Hetfield the best of both words.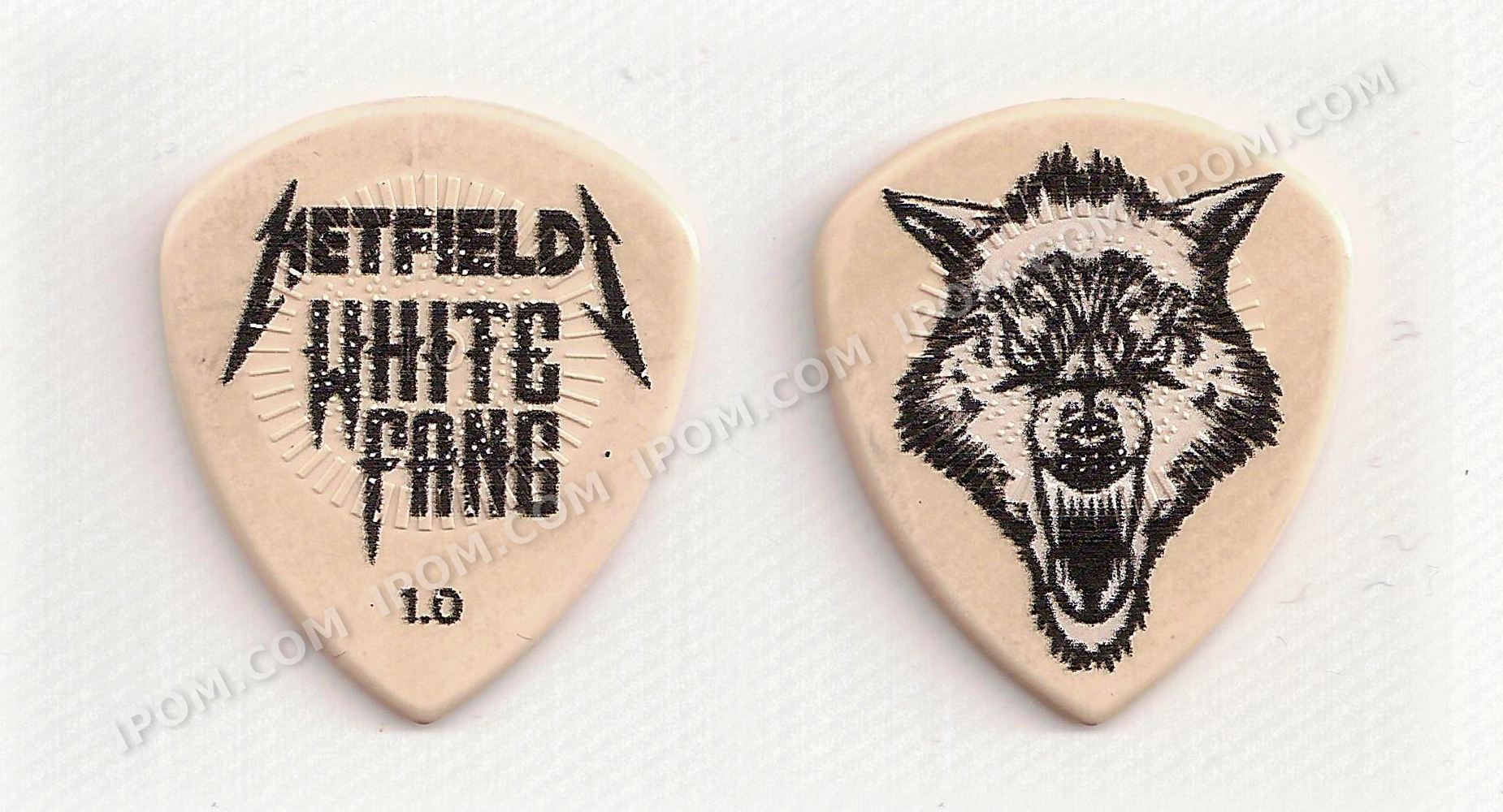 The initial test picks had a dot and dash grip similar to the flow (which Hetfield started out testing live) rather than the dot grip used on the final picks.
You can also distinguish the picks used by Hetfield in concert from the commercially available picks by the dash over the D in Hetfield. Some unscrupulous jerks actually scratch off this dash and try to sell the sale picks as concert used on eBay.
The White Fang is essentially a Dunlop Flow pick that incorporates the Black Fang's blended beveled edges and steps up the weight a notch to 1.14mm (standard Flow picks don't go past 1mm). It also has an enhanced grip which allows Hetfield to dig in, and not have to worry about the pick going flying.
"The White Fang Pick has amazing grip when sweating from heavy riffing, and a smaller profile to go faster," he says. "Plus, the white is easier to see when they get thrown into the crowd."
---
Before the fangs
Hetfield has used hundreds of picks over the years, both in a regular pick shape and a rounded triangle shape.
For years his pick of choice was a plain old Dunlop "tortoise shell" Tortex pick in .88mm.
Kirk Hammet also played Tortex .88mm picks until he swapped over to the Jazz III pick in 2008. He has said that the Jazz "completely changed" the way he plays guitar, as having so little contact with the string means he can get more notes out with much less effort. (If you're interested in Hammet's pedals, check our coverage of the wah pedal he uses).
---
Custom Tour Picks
Metallica have made custom picks for tours and events for years, and starting in 2008 have made custom city picks for many stops while on tour.
I was personally in the Snakepit for a show in Orlando in 2017 when the band were each handed a cup of picks right at the end of the show to throw out into the crowd.
Within a day the picks were for sale on eBay for upwards of $90 – such are the lengths Metallica fans will go to for collectables.
The amazing Insanity Place Of Metallica website has an exhaustive list of the picks Metallica have used over the years, both live and promo totaling (at time of writing) 692 picks.
The band has also released many pick tins over the year – curently there are nine different variations available for sale on the Metallica webstore.
In addition, each of the band's larger box set released (both the Live Shit Binge And Purge box and the individual album reissue boxes) have come with picks.
Picking Style
"I don't know any guitarist who can down-pick like Hetfield" – Dimebag Darrell
No question – James Hetfield is the master of down picking. Tight, chunky but fast downpicking defined the sound of much of Metallica's 80s and 90s output.
Take the opening riff to Blackened from 1988's masterpiece …And Justice For All – it's a 195 bpm downpicking marathon.
"It's not hard for me to play fast," Hetfield told Guitar World in 2012. "It's just not. And I love that. It might take a little while to warm up to certain songs, but the fast down picking—the really fast double picking in the riffs, especially when I pick up the beat—is just fun."
The thing about learning to play fast is it takes repetition. Hetfield also has something of a competitive nature, which helped him develop his speed (and timing) as he got into speed contests with Metallica drummer Lars Ulrich.
"It was always a kind of contest – who could down-pick the fastest – and mostly it was a battle between me and Lars, actually," Hetfield told Music Radar in 2008. "It's a hard thing to do well, because your timing has got to be dead on."
Flemming Rasmussen worked with Metallica on three of their first four classic albums, Ride The Lightning, Master Of Puppets, and …And Justice For All, so outside of the main camp he's probably seen Hetfield lay down more rhythm guitar than anyone. In 2019 he told Blabbermouth "There's no one better than him when it comes to down-picking. It's unbelievable. He'll do eight tracks and it'll sound like one guitar."
Why does James Hetfield only Downpick?
First off – he doesn't. Hetfield does still alternate pick in places (Battery for example). That said, the reason he prefers downpicking is that you get a good consistent chug when you continuously downpick. When you're playing a power chord, you want the notes to ring out the same every time. If you're alternate picking the chord, half the time the higher notes are ringing before the lower ones do, whereas if you always downpick, you're getting a consistent sound from every attack.
How does James Hetfield hold his pick?
While most people hold a pick with their thumb and index finger, Hetfield uses three fingers, thumb/index/middle. This approach can take some getting used to, but ultimately gives you more power, as well as making it easier to control your palm muting. When you play as fast and as tight as Hetfield, you really want to take every small improvement you can – it all adds up to the monster riffage for which Papa Het is known!
Final thoughts on James Hetfield Picks
Hetfield has one of the most famous right hands in metal, and with the right pick, and a lot of practice, you can get there too!
You may also like